30km Lake RunGet informed about the route
30 km road race on asphalt. A flat path in nature next to Lake Pamvotida. An extremely rare route, suitable for beginners and ideal for experienced runners.

Starting point - Ending: Mavili Square, Molos, Ioannina
Start Time: 8:00 a.m. (and partially in groups)
Date of race: Sunday, 19/09/2021
Register by selecting the number of runners you wish to register and continue with the registration process:
Reception of chips-numbers:
there will be a relevant announcement
Participation Fee:
Personal Registration: 20 euros.
Discount: 17 euros .
Group Registration (above 10 people): 17 euros.
Group EOLSMA-Y Registration (above 10 people): 14 euros.
Overdue Participations:
Personal Registration: 25 euros.
Discount: 23 euros .
Group Registration (above 10 people): 23 euros.
Group EOLSMA-Y Registration (above 10 people): 19 euros.
The Entry Package includes:
Technical t-shirt of the race
Number of Participation cursor
Electronic timer with chip
Collectible commemorative medal finish
Commemorative participation diploma
Medical Services
Photos
Discount bracelet in partner stores
Route Description
Square Mavili → Avenue Karamanlis→ Kountourioti → Papandreou→ 8th Division →Access to Perama → Access to Amfithea→ Access to Longades → Access to Vasiliki → Intersection Drosochori → Intersection Kastritsa → Junction to wooden bridges → Lakeside sidewalk street → small bypass on Vogiannou street → Miaoulis Coast → Garibaldi → Dionysios the Philosopher → finish line Square Mavili.
Note: The route is certified by IAAF/AIMS.
Kilometers Indications: All along the race entries per 1 km.
Timing: Electronic.
Time Limit: 4:30 hours
Every athlete that after 13:00 has not gone through the intersection Miaoulis Coast and Vogianou will continue the path from the lakeside sidewalk street, according to the directions of the judge and will finish under his/her own responsibility.
IAAF Athletics.Certified Route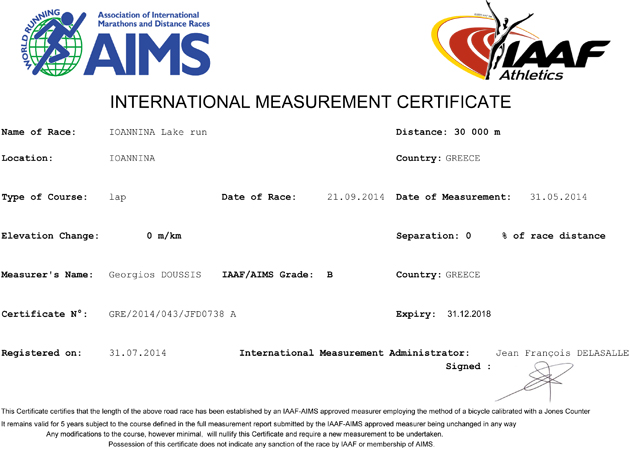 Useful Information
Water Supply Stations:
There will be 11 stations for supplies.
The water supply stations map of the 30 km race consists of 11 stations, starting from the fifth kilometer and with each station being located at 2.5 km from the previous one.
It is noted that bottled water will be provided at all water supply stations.
Chemical toilets will be located at 10, 15, 20, 25 and 30 kilometers.
5km: Natural Mineral Water Vikos
7,5km: Natural Mineral Water Vikos
10km: Natural Mineral Water Vikos, Isotonics
12,5km: Natural Mineral Water Vikos
15km: Natural Mineral Water Vikos, Isotonics, bananas
17,5km: Natural Mineral Water Vikos
20km: Natural Mineral Water Vikos, Isotonics, Vikos Cola, gel, raisins
22,5km: Natural Mineral Water Vikos
25km: Natural Mineral Water Vikos, Isotonics, bananas, Vikos Cola
27,5km: Natural Mineral Water Vikos
30km: Natural Mineral Water Vikos, Isotonics, bananas, raisins, baklava
NOTE: Runners are requested to leave bottles and glasses on the right side of the road, to facilitate their collection and recycling.
Eligibility:
All athletes from 18 years old. All athletes should undergo medical examination before the race under their own responsibility and should know that they participate also under their own responsibility.
Categories:
The race's categories are formed by five years (based on the athletes' age). In case of insufficient number of athletes in a category they will be formed by decades. The overall winners will not be also rewarded at their category.
Men - Women:
1. Up to 34 years old
2. 35 to 39 years old
3. 40 to 44 years old
4. 45 to 49 years old
5. 50 to 54 years old
6. 55 to 59 years old
7. 60 to 64 years old
8. 65 years old and more
Prizes - Awards:
Cash prizes to the top three winners of the overall ranking. The amounts will be 600€, 300€ and 150€ respectively.
To all finishers will be given a commemorative medal and diploma of the race.
In the general classification men and women will be awarded the 1st. Medal cup winner and diploma to the first three athletes. In categories (five-year) will be awarded the first three athletes-only three medal and diploma.
The prize giving ceremony will take place in the area of termination at the end of the race (about 12:30 p.m.).
Registrations:
The registrations are divided into:
a. Personal, that are applied individually.
b. Group. Group registrations refer to applications of groups of 10 people at least, which will participate at the 30, 10, and 5 km races. They aim at sports clubs, clubs that belong to EOLSMAY (Hellenic Association of Mass Popular Sports and Ultra Running Clubs), gyms, corporations, schools, travel agencies and even groups of friends that wish to participate as a team.
During a group registration a team leader must be determined who, if needed, will represent his/her team for any matter.
Group registrations are done on-line and are recognized by adding the group's name at the corresponding column.
Health Coverage:
Health coverage of the race is provided by the valuable help of health agencies, physicians, volunteers and Volunteer Samaritans and Rescuers of the Greek Red Cross (branch of Ioannina), throughout the length and route of the race.
The organizers are not responsible for what might happen during the race on health issues due to lack of preventive medical check. It is recommended that participants have recently undergone medical examination.
The organizers will not request medical certificates for any athletes, since all participants are participating with their own exclusive responsibility and minors under the responsibility of their guardians.
There will be announcements about the new health protocols before the race.
Collecting Runners (30km race):
An organization's vehicle with volunteer Samaritans will follow the last runners, to collect those who wish to quit the race. Runners who do not need medical assistance but quit can wait to supply stations until an organization's vehicle takes them to the finish.
Management of Personal Belongings:
Participants will deliver - receive their personal belongings at the starting point at Square Mavili. Also athletes are requested not to carry valuables in their bags. The organization takes no responsibility for any loss.
All Routes.Choose your own